Friday, September 11, 2009
ORIGINALLY POSTED 9/11/06
September 11, 2001 - Boy just that date says soo much doesn't it?? There are so many dates and events we remember in our lives but this one day, this one date is one that I think almost everyone will always remember. It's the day our entire world changed. I remember it more clearly than so many other momentous days in my life. I was on my way to work - running late from dropping the boys off at preschool -- it was their second week there and we were still adjusting...
As an EMT and federal employee I was to participate in a WMD exercise that day -- boy was I ever!!! Nothing could have prepared me for just how much I was to participate that day and since. But as much as MY life changed that day so many others had their lives changed too...
I joined "The 2,996 Project" because I have friends whose lives were directly forever changed even if mine wasn't... When I joined my person to remember was randomly assigned to me - imagine my joy at receiving a firefighter!! Not only did I receive someone who's daily job it was to be a hero and take risks but in the end he made the ultimate sacrifice making him one of the greatest heros of all... I want to honor the memory of this hero and celebrate his life...
History books will say things like -- On September 11, 2001, four U.S. planes hijacked by terrorists crashed into the World Trade Center, the Pentagon and a field in Pennsylvania killing nearly 3,000 people in a matter of hours. Behind the staggering number of deaths are the individuals, each of whom left behind family, friends and co-workers who feel the national tragedy on a personal level... But they won't tell you all the individual stories so it's up to those left behind that aren't going to forget - people like me - a member of The 2,996 Project... Here's a little about one of those individuals...

Capt Joseph Farrelly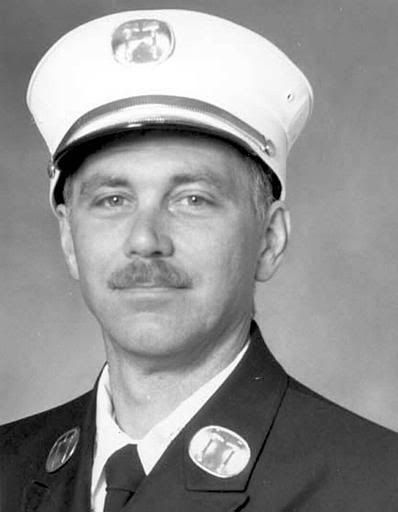 Cpt Farrelly, 47, was a firefighter with the NY Fire Department, Engine Company 4, Ladder 15. It is believed that his company was one of the first to respond to the WTC North Tower on 9/11. That was his job and he did it proudly. One news article/memorial I read about him had the headline "He was "a born firefighter". Another said "firefighting was this captain's dream job". He was also no stranger to terror at the WTC. He'd been there before - he was hospitalized with smoke inhalation after a terrorist's bomb exploded at the World Trade Center in 1993. Mr. Farrelly accepted it as part of the job. "He always wanted to be a fireman, and always wanted to be a New York City fireman. That was like the ultimate for him," Mrs. Farrelly said.But Joe Farrelly was MORE then just a firefighter – he was a son, brother, husband and father – it's THAT Joe Farrelly I learned the most about in my research. It was that Joe Farrelly I connected with as a fellow parent... Joe loved kids and he loved romance. Even after 25 yrs of marriage he still left love notes and flowers just because for Stacey, his wife – in fact he left a note for her Sept 10th as he went to work – it read ""I can't begin to tell you how much I love you. Words are inadequate. Already I can't wait toget home". She's kept them all. The last note he wrote is now framed in their home. One family friend is quoted saying ""Joe made it a point to make her happy, I used to tease her all the time and call her the queen. He treated her that way. He dedicated his life to making her happy." Chivalrous describes him well – he opened doors for his wife, washed dishes after supper, planned romantic getaways and even warmed her car for her on cold days. Together they had wonderful, loving home. T hey were foster parents to neglected and crack addicted babies for 10 years before starting a family of their own. They took in newborns and nursed them through their addictions, returning them after six months to foster or adoptive parents. Stacey Farrelly said her husband loved the babies. "He used to like doing the nighttimes," his wife said. " He would talk to them and tell them not to worry, that they would have a good life." The Farrelly's also have 3 children of their own, 2 boys, Ryan now 24, Devin now 23, and a daughter, Juliann now 16. Joe was an assistant Boy Scout leader when the boys were younger and was active in the PS 3 and Totten Intermediate School PTAs, forever hanging decorations from the classroom ceilings. He took pride in his knowledge of fire prevention and shared it with children on the South Shore. He was known as "Fireman Joe" to students at PS 3, where he taught children "not to be a afraid of the men in the masks." From all that I have read about Capt Joseph Farrelly he led a life and left a legacy that I can only hope mine will come close to. I can imagine that he is sorely missed in ways that I can't even begin to imagine by his family and friends. I will continue to remember them and all the victims of 9/11 – both those still here and those we have lost. THANK YOU CAPT FARRELLY for all you did while you were here and thank you to his parents, wife and children for sharing him with us while he was here. I hope my small tribute written here does your son, husband, father a small amount of justice and that your sorrow is somewhat eased knowing what a wonderful man the entire world knows he was.Information obtained from the following links -
http://www.legacy.com/Sept11.asp?Page=TributeStory&PersonId=145290

So none of the 2,996 are forgotten I want to share yet another one of our 9/11 heros...

Timothy Matthew Welty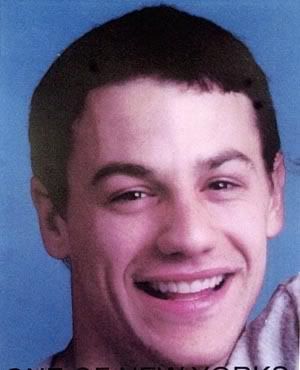 Timothy Matthew Welty, 34, FDNY, Squad 288… Tim was one of the 340 firefighters from 75 firehouses that earned their wings that horrible day not so long ago. But he was more then just a hero that gave all of himself, he was a son, a husband and a father. I read he was strong, intelligent, patient and full of life. He skied, he sky-dived, parachuted, rode motorcycles, played hockey and volleyball – an all-around athlete. Tim was on the City Fire Department Volleyball Team and traveled the world playing. He was on a hockey team and between periods was teaching his son Jake, now 9, to play. His mother still takes him to the park where his dad skated. Sadly his daughter, Julia, now 5, will not remember her father directly but he will live on for her in the stories and memories of those that do remember him. He's left behind a legacy of life and love. His mom has some of that legacy in a tangible form – he had recently started a construction company. He renovated his mother's house, gutting it and adding skylights, new molding and handmade parquet floors. "My son rebuilt my home in Flushing," she says. "We miss him each and every day."From some of the tribute sites I found messages left by his mom last year – you can feel the love and loss in her words - Timmy, you were always a ray of sunshine, your smile lit up my life. It is four years later, and we miss you desperately, love you intensely and hold you forever in our hearts. MomIt has been four years since you disappeared inside that towering inferno. It still does not seem possible the world could go on without you, your smile, your energy and your love. We miss you and love you and keep you forever in our hearts. Love, MomThe Welty's lost a son, a husband and a father. Squad 288 lost Tim and 5 others, FDNY lost 340 total – the world lost sooo much more. Information gathered from –

As part of The 2,996 Project I want to ensure that everyone is remembered - here's a little about another one of our 9/11 heros...
David W. Bernard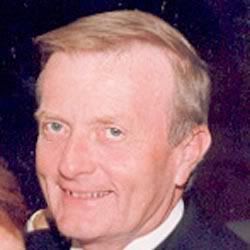 David W. Bernard, 57, from Chelmsford, Mass. was an industry specialist for the Internal Revenue Service who was on one of his regular business trips to NYC that fateful day. For most there was very little or no time for good byes – the end came quickly and unexpectedly. It was a different story for David W. Bernard. For Dave and his family the end, while unexpected, was delayed. They had time to say good bye but in the end Dave's passing was the result of the terror – Dave was struck by falling debris on Sept 11th and survived. For three long months he fought extensive injuries - two punctured lungs, 13 broken ribs, a broken shoulder blade and a severe spinal cord injury. After three months his wife thought he was going to pull thru but fate had other plans. On Dec 11th – exactly three months after the terror attacks David W. Bernard succumb to his injuries. I know that this is so much more time and preparation then many of the families had but still heartbreaking none the less.From all I read Dave was a true family man and an avid golf player – his family came first and he combined his love of his family and his love of golf. The entire family – Dave, his wife, his 2 sons, his daughter and her husband – would spend time together on the golf course. I read that every July Dave participated in a father-son tournament where he would play the entire 18 holes TWICE so that each son had a chance to play with him. He patiently taught his wife to play so that "when we traveled together we could do it together." (In return, he went shopping with her.)" It was also noted that "Nobody could ever be mad at him. He just had a very easy way about him." said Mrs. Bernard. "He could laugh at himself and had a good sense of humor."On a memorial page in the guestbook a long time friend wrote "I knew him for about 30 years. He made everyone feel very special. He liked everyone and everyone liked him. He was a kid at heart but a man in every sense of the word. He is dearly missed by too many people to count. It was my priviledge to have been considered one of his friends."My thoughts and prayers to his family and friends for their loss. I hope that time has eased some of the pain. David and the other 2,996 will never be forgotten.Information gathered from -
http://www.9-11heroes.us/v/David_W_Bernard.php
Wednesday, February 18, 2009
In Memory of John Quinlan -

It's been 2 years today but it doesn't always seem real to me and yet 2 years ago the war on global terrorism took on a much bigger meaning to me... John was like a brother to me and an uncle to the boys - a dear friend I felt so privledged to know and love.. Has it really been so long? It seems like just yesterday I was talking to him about his upcoming trip back home and our hopes of managing to grab a visit with the families.. It seems like just yesterday I was returning a call to Golly only to hear "we lost John"... It seems like just yesterday I was standing in Arlington for a final goodbye..

I have been remiss on keeping in better touch with his family but his parents, sister, wife and daughters are always in my thoughts... I am soo proud of how strong everyone has been when I know it's been sooo hard for them - I know that John must be looking down feeling the same way... I have heard that John has let it be known he's watching over and I am not surprised - John had a love for his family that was astronomical... I hope Julie, Susan, Golly and PopPop know how much the boys and I love them.. I hope the know we think of them often and forgive us when the daily trials of life side track us from keeping in touch more often... Today I am sending extra love and prayers their way - I am also extra appreciative today of all our armed forces and the sacrifices that they and their families make for all of us...

Til next time...